Gold and Glass Gallery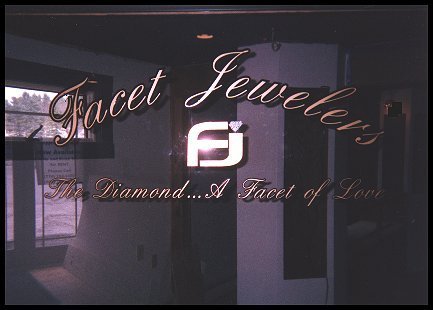 Facet Jewelers, Alton Bay N.H.
When you walk into this shop, the eye level glass insription sets the tone and atmosphere. Gold vinyl script copy with a black outline.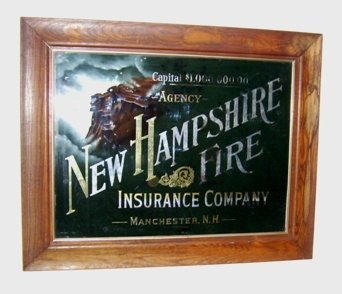 A superb example of a rare vintage reverse on glass insurance sign. Featured is a painted profile of "the old man of the mountain". It measures 32x39 inches.Reverse on glass gilded projects challenge a more complicated dynamic as to sign making and gilding. This lost art was popular through the 1880 to 1910 period. All sorts of businesses used these impressive forms of advertising. Often found with gilded mother of pearl, coral, abalone and other available materials, that captivite depth and illusion. Gold and silver leafed letters with matte centers and fancy burnished outlines.The glass is wavey and old and mounted inside a polished oak frame.
This example has the old signmakers stamp on the back indicating it's age. Such a piece would look magnificent in the front lobby of an insurance company, or underwriters office. These signs are rare, and cost prohibitive if you are able to find one that is near mint condition, you're lucky.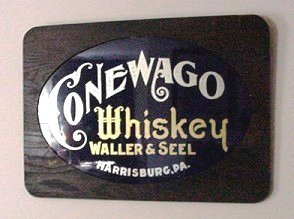 Here is another example of a vintage advertising sign, circa 1890ís- 1900. This sign was recieved in poor shape as most, due to moisture.Today bee's wax is applied to the backing to prevent moisture damage from occuring. Unlike the previous vintage sign. The matte centers on this example were acid etched into the back side of the glass, then gilded. The matte centers on the previous sign were chemically created. Examples of early sign advertising provide to the signmaker a special insight into the technologies of a past era.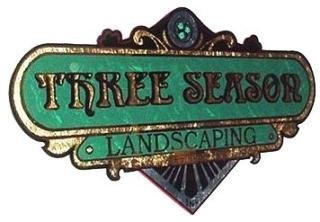 Three Season Landscaping, Henniker N.H. A fully restored, historic railroad depot was the home office for this business. We created this reverse gilded inscription with the railroad depot's history in mind. Capturing the theme, we added 23K gold matte centers, burnished outlines,marbled Malachite background and chrome leaf. Outlines are black and burgundy. A very pleasing main entryway.





Gold Leaf & Black Sand Gallery... Pg2
Signfoam and Illuminated Gallery ...Pg3
The old Henniker Railroad Depot Pg4

More on Goldleaf
Page 1/4


Updated 12-11-2020 by tidbits2bits.com